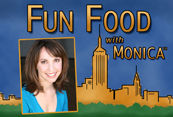 There are many many places to eat in the city but here are some places  to check out that won't break the bank…
Patsy's Pizza. 61 West 74th. I love pizza!!! This is my favorite…and I've had them all.
Grimaldi's. 19 Old Fulton St. Brooklyn. AÂ fun destination in Brooklyn. You can walk the Brooklyn Bridge to get your pizza and your exercise. There is always a line outside but it is worth it! It's the coal oven that makes it special. The best on this side of the bridge.
Brooklyn Ice Cream Factory. Right across the Brooklyn Bridge. I stop there on my way back once I've had my pizza. You have to pass it anyway! Save some room.
Coppola's. 206 W 79th. A nice reasonable italian place. Great pastas and pizza.
Gradisca. 126 W 13th. Pricy but worth it. All pastas are homemade. $20-$30 pastas. I love the gnocchi in a truffle cream sauce. The menu changes often so you never know what you might find.
Harry's Burrito. 241 Columbus Ave. (67th) Great outdoor seating and killer margaritas. There is usually a wait but worth it. One of the large drinks is all you need! I like to build my own quesadilla.
Fred's & High Life. 83rd & Amsterdam. They are across the street from each other. Great American food. High Life also has good sushi. There are tons of bars on Amsterdam so it's a nice place to stroll.
The Half King. 505 West 23rd. The best and biggest burgers. I love the sweet potato fries too. Go hungry! In the back there is garden seating. It gets a good bar crowd also.
Zen Palate. There are a few in the city. The most popular vegetarian place.
Thai Basil. 860 9th Ave. A tiny place with authentic Thai food. The staff is always pleasant. Reminds me of my time in Thailand.
Serendipity. 225 East 60th. An ice cream lovers dream. You must get the frozen peanut butter hot chocolate. Trust me. They do serve food but I go for dessert.
The great thing about New York is that you can stumble onto a great restaurant at any time. All of these neighborhoods are worth exploring. Happy Eating!!